Miami Cerebral Palsy Attorneys
Cerebral Palsy & Medical Malpractice
Cerebral palsy is a life-changing diagnosis. While those diagnosed with the condition can certainly go on to lead full, happy lives, they will also face significant challenges that may impact everything from their ability to easily get around to their employment capacity to their ability to care for their basic, everyday needs.
Tragically, many children with cerebral palsy are the victims of medical malpractice. Oxygen deprivation during labor and birth can cause significant brain damage, which may lead to cerebral palsy. All too often, these birth injuries occur only because doctors, nurses, and other medical professionals are negligent—leaving children and their parents to suffer the consequences.
If your child has been diagnosed with cerebral palsy following a difficult pregnancy, labor, or delivery, reach out to our team at Rossman, Baumberger, Reboso & Spier, P.A. Our cerebral palsy lawyers in Miami can meet with you to discuss your situation and inform you of your legal rights and options. There is no cost and no obligation when you talk to our firm.
---
Pursuing a cerebral palsy settlement can help ensure your child is properly cared for the rest of their life. Contact us onlineor call our office at (305) 900-5493today to schedule a complimentary consultation and case evaluation with our team.
---
What Is Cerebral Palsy?
Cerebral palsy is a condition that affects the brain, as well as mobility, posture, and balance. Technically, it is a group of disorders, and there are different types of cerebral palsy, as well as varying symptoms.
The four main types of cerebral palsy are:
Spastic Cerebral Palsy: Spastic CP is the most common type of cerebral palsy, comprising approximately 80% of cerebral palsy diagnoses. This type of cerebral palsy is characterized by increased muscle tone, leading to stiff muscles and "spastic" movements. Spastic CP is further characterized by its symptoms; spastic diplegia/diparesis mainly affects the legs, whereas spastic hemiplegia/hemiparesis affects one side of the body, and spastic quadriplegia/quadriparesis affects the entire body, including the torso, all four limbs, and the face.
Dyskinetic Cerebral Palsy: Dyskinetic cerebral palsy affects the movement of the feet, legs, hands, and arms and is characterized by both rapid, jerky movements and slow, writhing movements. In some cases, this type of cerebral palsy may affect the face, including the mouth and tongue, making it difficult for affected individuals to talk, eat, or swallow. Dyskinetic CP can also lead to changing muscle tone on a daily or even hourly basis.
Ataxic Cerebral Palsy: Ataxic CP primarily affects an individual's balance and coordination, causing problems with both quick and controlled movements. Those with ataxic CP may have difficulties walking, writing, reaching, or grasping objects.
Mixed Cerebral Palsy: Mixed cerebral palsy occurs when an individual experiences multiple types of cerebral palsy. While this can involve any combination of the three main types of cerebral palsy, the most common type of mixed CP involves spastic CP and dyskinetic CP.
Cerebral palsy is further categorized according to severity; the more severe the condition and its symptoms, the greater the impact on the individual's life. Those with relatively mild cerebral palsy may experience an overall "normal" life, whereas those with severe cerebral palsy may require extensive, ongoing, and even lifelong assistance and care.
How Cerebral Palsy Is Diagnosed
Cerebral palsy should be diagnosed as early as possible so that children can begin receiving the care they need. That being said, the signs of cerebral palsy typically do not appear until a child begins missing certain developmental milestones. In some cases, infants may appear "floppy" or "stiff," which could be an early indicator of cerebral palsy.
To diagnose cerebral palsy, medical professionals may do one or several of the following:
Track a child's development and growth over time, looking for specific issues of concern
Conduct a developmental screening test to identify developmental delays or abnormalities
Refer the child to a specialist for further testing depending on the results of the screening
Carry out several developmental and medical evaluations to diagnose the specific type of cerebral palsy a child has
If you notice any signs of cerebral palsy in your child, see a medical professional right away. Although cerebral palsy cannot worsen, it is important that your child receives proper medical attention and care from the start. Various medical treatments can help improve your child's life and allow them to reach their full potential.
What Birth Injuries Cause Cerebral Palsy?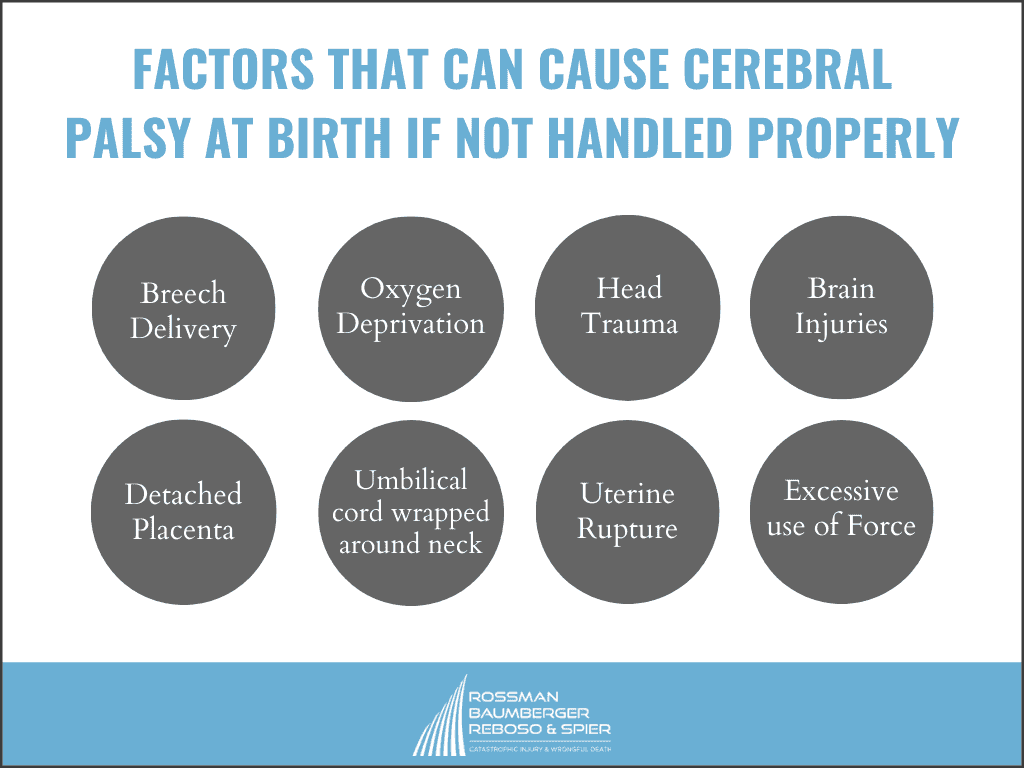 Although doctors once believed that birth injuries were the primary cause of cerebral palsy, it is now believed that medical negligence contributes to only a small percentage of cerebral palsy diagnoses. That being said, the risk is still very real. It is widely accepted that birth injuries cause anywhere from 10 to 20% of all cerebral palsy cases in the U.S.—a number that is much too high.
Some birth injuries that commonly cause cerebral palsy include:
Oxygen deprivation
Anoxia/hypoxia
Hypoxic-ischemic encephalopathy
Brain injuries
Head trauma
These birth injuries are frequently associated with complications such as breech presentation, uterine rupture, placenta detachment, and umbilical cords becoming wrapped around the infant's neck, cutting of oxygen supply. It can be difficult to determine whether a medical professional acted negligently in such situations, but it may be the case if a doctor, nurse, or another health care provider failed to properly monitor the mother or the infant, failed to order a timely cesarean section (C-section), forcefully delivered the baby, or failed to adequately recognize/respond to signs of fetal distress.
Is Cerebral Palsy Always Caused By a Birth Injury?
No. Sadly, about 70% of infants born with cerebral palsy developed this while in their mother's womb. Only about 20% of children develop CP as a result of a birth injury or medical malpractice. If your child developed this condition while in the womb, you most likely will not have grounds to file a claim against the doctor or hospital who helped deliver the child. Unsure what could have caused your baby's condition? Speak about your case with our attorneys in a free initial consultation.
Cerebral Palsy Compensation
If you believe your child's injuries and/or condition was caused by medical malpractice or negligence, you could be entitled to compensation for your child's losses and your resulting damages. By filing a personal injury claim on behalf of your child, you can seek recover for unexpected financial costs associated with your child's condition, as well as the physical and emotional losses your child and your family has experienced.
Depending on the specifics of your case, you may be entitled to the following economic and non-economic damages:
Medical expenses related to diagnosing and treating your child's cerebral palsy
Medications, medical equipment, and other related items
Ongoing and future medical expenses, including in-home assistance and care
Lost wages/income related to time taken off work to care for your child
Pain and suffering, both on your child's behalf and yours
Counseling, therapy, and rehabilitation costs
Expenses associated with special education, home modifications, and other accommodations
To have grounds for a cerebral palsy claim, you will need to prove that a medical professional acted negligently and in violation of the accepted standard of care. This can be extremely difficult without the help of an experienced and highly skilled attorney.
Contact Rossman, Baumberger, Reboso & Spier, P.A. Today
When you turn to our firm, you don't just get one attorney—you get an entire team of dedicated legal professionals all putting their collective experience, resources, and skill to work for you and your child. We understand the unique challenges you are facing, and we know how to effectively navigate the legal system on behalf of you and your family.
Our Miami cerebral palsy lawyers are available to answer your questions and address any concerns you may have. We handle cases throughout the state of Florida, from The Keys to Jacksonville and everywhere in between. We are committed to not only securing the monetary compensation you need to get your child the care they deserve but also to securing justice and working to ensure similar acts do not affect other children and families in the future.
---
Interested in discussing your options in a cerebral palsy lawsuit? To schedule a free, confidential consultation with one of our cerebral palsy attorneys in Miami, call (305) 900-5493 or contact us online now.
---

What Our Clients Think
"It meant so much knowing we had a team of people supporting us, that we could trust!"

Stephen and Valerie

"I couldn't be happier with how our case was handled."

Alexandra C.

"Your knowledge and expertise helped keep our minds at ease during this very stressful situation."

Crespo Family
Recognized In Our Community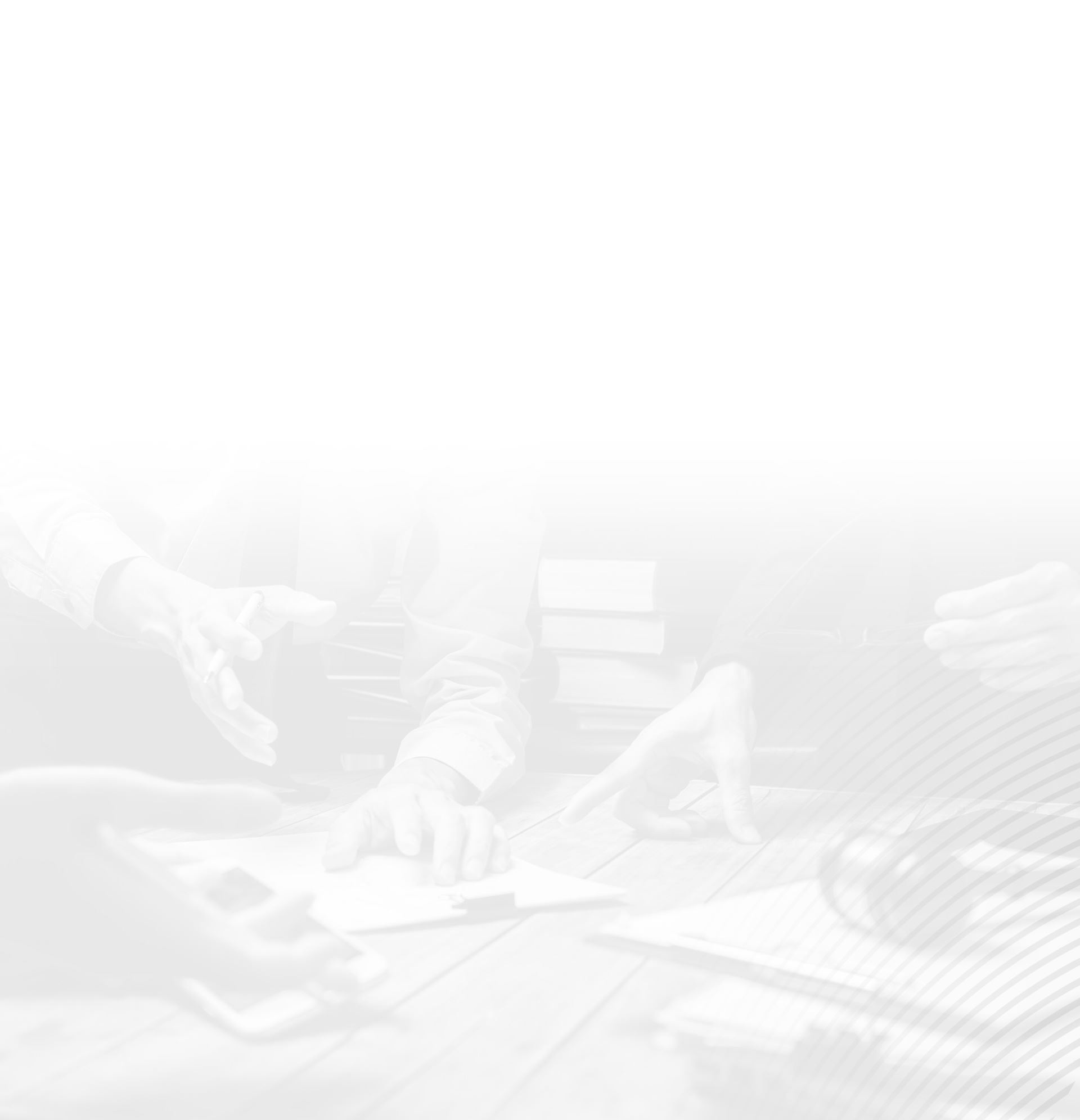 Our Difference
Over 200 Years of Experience Combined

Won $900 Million in Verdicts & Settlements

Free Initial Consultation

Committed to Our Community

Serving Clients for Almost 50 Years

Dedicated to Helping You Get Your Life Back
Schedule Your Free Consult Contact Us Rossman, Baumberger, Reboso & Spier, P.A.